14:00~17:00 Dj Set x LiveArt at DJ Stage
Siao-Chi,Chen
陳孝齊 ft
MinJu Lee 李敏如
Taiwan
#LiveArt #LiveSet #Noise #Industrial #Experimental
Concept :
有些人將市場變成美術館,有些人則將美術館變成市場
我這次在示範後者,不過是用賊仔市的方法賣
然後,這個作品的初衷其實是噪音
工商業的噪音、現實生活的噪音、藝術的噪音、貧困的噪音、貪婪的噪音...
總之當我們可以在這裡開趴
不要忘記還有多少低端人口 Basket of Deplorable Basement Dwellers 在辛苦
也照照鏡子自己想想
你跟國際低端人口有什麼分別?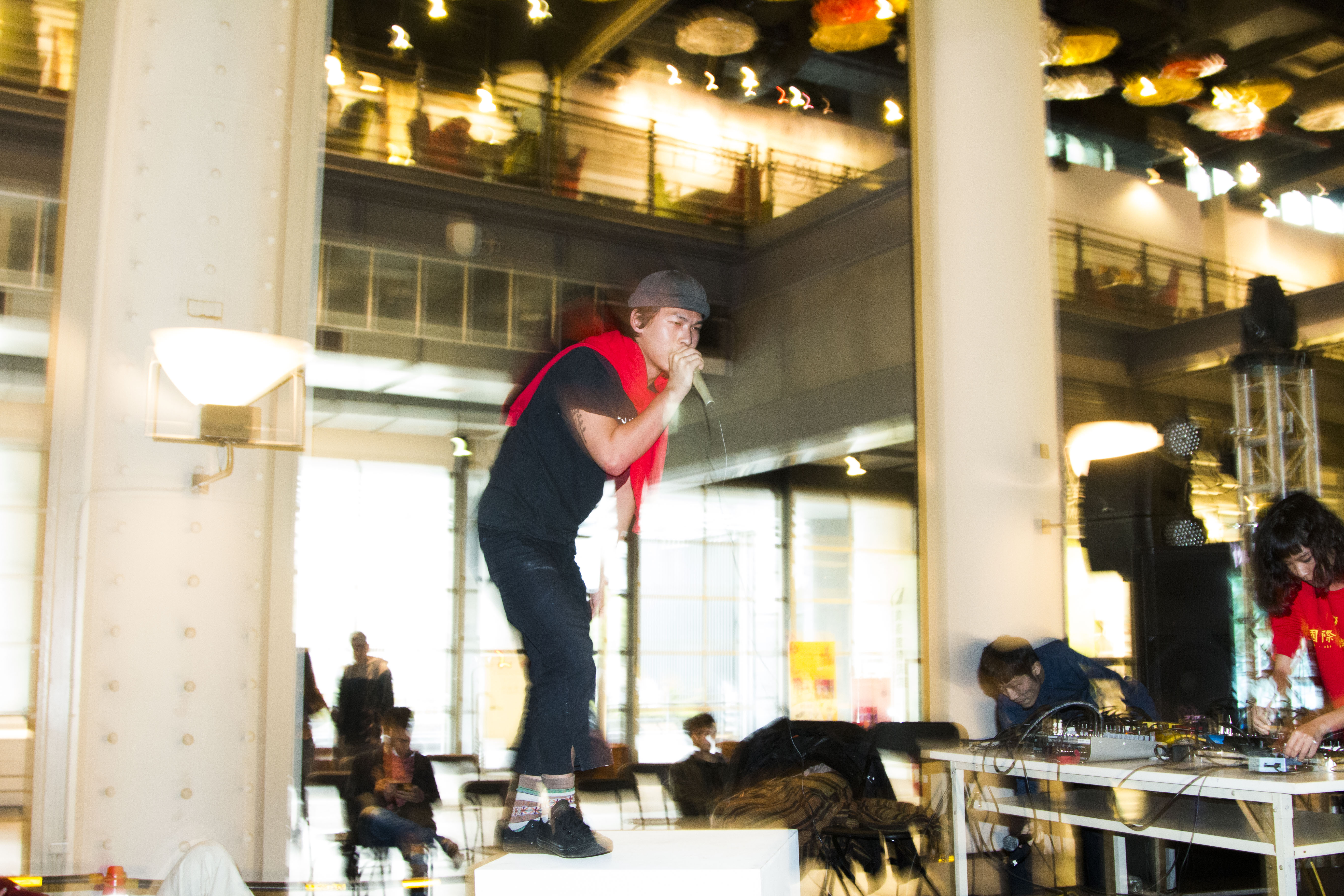 photos by Yu en Lin
photo by zito tseng
Siao-Chi,Chen (Achi) was born in 1990 in Taiwan. His passion for performance art was inspired by many types of sub-cultural music and dance. In 2008, he was enrolled into Department of Drama of National Taiwan University of Arts, majoring in directing and performing. Achi's work is based on his exploration of body, consciousness and space, as well as his observations on social issues and human behavior patterns in everyday life. On July 2012, he organized "
派對劇場 Theatre of Party
", which occasionally performs in specific place, devoting in party-like performances, combining different fields of art to stimulate people. In 2015, Achi and his friends started the "
酸屋 Acid House
" at Yonghe, curating many alternative art exhibits and performances in hopes of bringing art into community life. In 2017, he went to Nepal for a two-month art residency, cooperating and doing performance with local artists.
Min-JU Graduated from University of Taipie, majoring in visual arts and the creation mainly based on the Limit concept of mixed media and installation art. Due to long-term noise in the living space, step on the journey of pried into the sound to extend the time and space, and Start to contact the sound art and performance art. Mainly handle the forced perspective of body perception and space-time, walking on the boundary between the illusory and reality, and reconstructing the sensory experience and perspective. Representative works have "Turn down (2017)", "On the Line" (2017).
陳孝齊 | Siao-Chi,Chen
別名
陳考齋
,九零青年,目前為臺灣藝術大學碩士與藝文相關工作者,從街頭舞蹈及音樂開始藝術生涯,在台灣藝術大學研修表演及導演。創作奠基於對身體、意識及空間的探索,社會議題與對人類日常行為模式的觀察心得,經常是其創作題材。2013年以「
派對劇場 Theatre of Party
」概念,作為組織次文化社群、策畫集體行動的方式,於非制式展演場所進行表演與空間實驗,並主辦多場電子音樂活動。2014年與夥伴在永和經營社群基地「
酸屋 Acid House
」,以藝術展演帶入社區生活為理念,策劃多場另類展演。2017年赴尼泊爾駐村兩個月,與當地藝術家交流合作展演相關活動。
李敏如 | Min-JU-Lee
酸屋 Acid House
團員。畢業於台北市立大學視覺藝術學系,創作以限地概念的複合媒材與裝置藝術為主。因長期居住空間的隔音不良踏上以窺探聲音延展時空的旅程,而開始接觸聲音藝術與行為展演。主要處理身體感知與時空的借位現象,在虛實的界線上遊走,重構感官經驗與觀看視角。代表作品有《放低音量》(2017)、《上線》 (2017)。 近期於
失聲祭 Lacking Sound Fest.
、 台灣美術館與
Liquid Architecture
液態建築共演,
玩劇島小劇場 Little Play
的「真的假的-文化工業的誘惑
True Or False-Temptation Of Cultural Industry」表現傑出。
▲真的假的-文化工業的誘惑True Or False-Temptation Of Cultural Industry Live
https://www.facebook.com/AcidHouseDingxi/videos/1952488654965584/